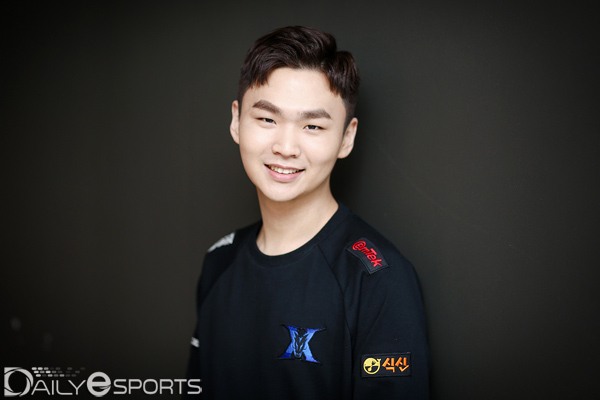 The year 2018, which in the oriental calendar, is the year of Wu Qu, or the year of the Golden Dog, asit is said that Wu(戊) refers to land or high mountain, or yellow or gold in color, while Qu (戌) refers to dog among the 12 zodiac animals.
As professional gamers reach their prime during the early 20s, those meeting their zodiac year (the year when they turn 24, as there are 12 zodiac animals) are usually considered old in the field. 24 is an age when Korean women graduate from universities, while men finish the military service, and start their career path. However, for professional gamers, their career is nearing toward the end by the time they are 24. They begin to worry about the military service they have put off for their career, and their joints begin to break down because of their intensive 5-to 10-year experience. So, it is difficult to ask the 24-year old players for interview, as their performance is usually on a downtrend.
Thankfully, I am lucky this year, as Beom-hyeon 'GorillA' Kang, who just turned 24, is continuously improving and successfully leading the outstanding performance of Kingzone DragonX. While his career started later than others, but he has constantly improved and developed. We heard out how he feels about the year 2018, and his resolutions for his zodiac year.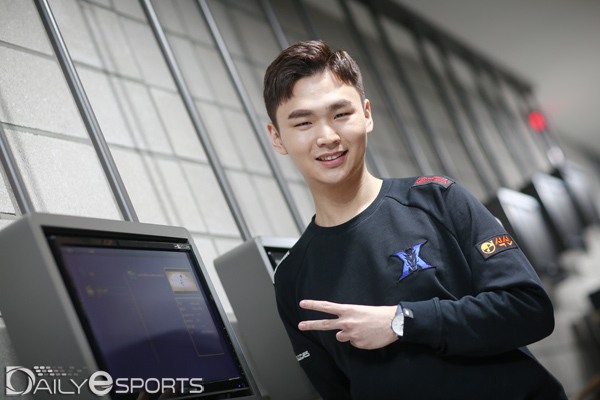 ◆Meeting Najin was Great Luck
GorillA began his professional career by joining Najin e-Mfire in 2013. While he was talented in various games, League of Legends (LoL) was his soulmate. A student with excellent academic performance, GorillA was introduced to LoL by his friends when he was admitted to the high school dormitory in his senior year. In the end, he fell into LoL and gave up his chance to enter good universities in Seoul.
Q.When did you first think about becoming a professional gamer?
A.I am the youngest of the three sons in my family, and I was able to easily access games since all my elder brothers liked games. I played lots of games when I was a student, and I was quite good at all of them. I first met LoL when I was a senior in high school. I was admitted to the high school dormitory for my college admission, and I was introduced to LoL by my LoL enthusiast friends. I tried not to fall into it, but I just could not resist.
Q.You must have been a good student if you were admitted to the school dormitory.
A. My school let me in the dormitory because they thought I had the potential to be admitted to universities in Seoul. However, I fell too deep into LoL, and could not focus on my college admission studies. I ended up in the Department of Hotel Management in a university located in the outskirts of Seoul. I devoted myself to the game even more after I got into college, and I was climbing up the table when Najin e-Mfire contacted me. I was called to try out for the team during my mid-term period, so I skipped school and went to try out. I passed the tryout, and I immediately joined the gaming house.
Q.What does Najin mean to you?
A.I learnt how I should live as a professional gamer. I thought that my life would be freer as a professional gamer than as a university student, but it wasn't. When gaming became a job, I had to pay attention to more stuffs. Becoming a professional player meant that I had to take care of lots of things by myself. I learnt how to behave as a professional from Head Coach Jung-suk 'Reach' Park, who was the 1st generation SC pro gamer, and learnt how to play the team game from Jae-min 'Zefa' Lee and Young-jin 'Save' Baek, whom I saw from the TV. I think my experience in Najin contributed greatly on my development.
Q. Did you originally prefer playing support?
A. I started as a mid laner, but I switched to support because I thought it suited my personality. I first played LoL in Season 2, and Ahri was OP and fit my playstyle. I raised my rating with Ahri but after the big nerf I couldn't maintain my ELO, so I switched to support.
Q. Do you have any interesting episodes about the solo queue during your amateur times?
A.I met No-cheol 'NoFe' Jeong, who later became my second Head Coach at a solo queue. I was playing mid, and he pointed me out for not playing in harmony with the jungle. That's when I realized that I should be able to play a team game, even in solo queue, and I realized the pressure of playing in mid.
Q. Wasn't the transition to support difficult?
A.While I did play mid main, I was also familiar with ADC, and I knew how to play the meta champs like Lulu, Sona, and Nami. So I didn't have a hard time getting accustomed to the position.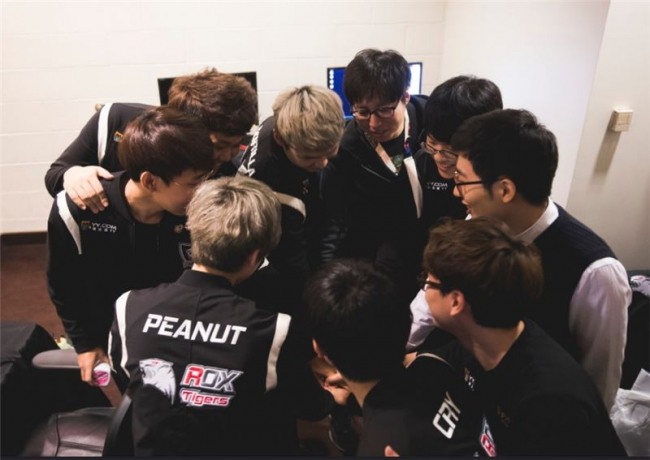 ◆Making the Name Heard in GE
GorillA's name became known to the world through League of Legends World Championship(Worlds). Defeating SK Telecom T1 K at the Regional Qualifiers in 2014, Najin Shield made it to the Worlds but lost to OMG at quarterfinals by 0-3.
After it was decided that one team cannot have two squads, GorillA looked for another team, and joined Huya Tigers which was newly formed with NoFe as the head coach. While the title sponsor changed every season to GE, KOO and ROX, GorillA stayed in the team with Kyung-ho 'Smeb' Song, Seo-haeng 'Kuro' Lee, and Jong-in 'Pray' Kim, reaching two consecutive Worlds and finishing as runner-up and semi-finalists in 2015 and 2016.
Q.You made it to Worlds with Najin Shield in 2014.
A.Reaching Worlds was a miracle itself. The overall performance during the entire season wasn't the best, but we were able to make it to the Regional Qualifiers thanks to the circuit points we have stacked up. Throughout the Qualifiers I could feel that the team was getting better, and we were able to beat SK Telecom T1 K, the World Champions last year, to make it to Worlds. At the group stage, we had to go through the tiebreaker with C9, and lost 0-3 to OMG at quarterfinals. I cried so much backstage. I felt that I wasn't desperate enough for the win. I was angry at myself for not being able to show anything, and I was desired to win.
Q.Is that why you moved to another team?
A. There were various issues after the 2014 Season. The biggest reason was that the teams could no longer have brother squads. Nu-ri 'Cain' Jang was at Najin, and I did not want to compete with a player which I had played together for a while. I wanted to move to another team which wanted me in, and I decided to join NoFe's team when I heard that he was building a new team.
Q. What were your first impressions on the teammates?
A. NoFe had scouted all other players, and all the players had one thing in common: while everyone was deemed players of great potential, no one ever made it to the top level. So I thought, 'If we break the egg, we're going to be able to create something big."
Q.There were lots of ups and downs.
A. We were provided with the great deal of support at the beginning. Our sponsor was an Internet Streaming Platform enterprise, and supported lots of broadcasters, content creatorsand MCNs. The team was given autonomous management rights. But at the 2015 Worlds, there were rumors around the team, and although no one outside the team knew, there was almost zero support. All the players were hungry and closed ranks to make things happen. Although being the runner-up was disappointing, it was indeed a miraculous achievement considering all the circumstances.
Q. How do you recall the finals of the Worlds 2015?
A. After the semifinals, we had a week till the next match, and we came across a news article that the team will break up after the tournament due to the bad financial condition. We were trying not to be swayed by the bad news, and on the final day, we came across the 'KOO' chant from European fans (KOO was the naming sponsor of the team then). They were expecting a decent underdog story, and they were so supportive since we were the underdogs then. That's when I realized that I wanted to keep playing in the global stages.
Q. You again made it to Worlds in 2016.
A. Yes, under the name of ROX Tigers. While the management changed, the players were almost the same. We tried hard for the championship, but our run was ended at the semifinals. While I did like the fact that we made it to Worlds again, but I realized that it didn't mean much if we couldn't win the trophy. It was a very difficult year for me personally. I was sorry to the teammates since my form dropped at Worlds and that brought down the whole team. The news about the team being dissolved came out again, and it did turn out that way. We had to part ways.
◆17 Longzhu, 18 Kingzone, and Captaincy
After the 2017 season, the members of ROX Tigers parted ways. Smeb joined kt Rolster, Wang-ho 'Peanut' Han joined SK Telecom T1, while Kuro went to Afreeca Freecs. Pray and GorillA, the bot lane duo, joined Longzhu Gaming.
With Pray and GorillA duo, or 'PrillA' joining the team, Longzhu Gaming was immediately considered the potential champions. Also with Sang-su 'Ssong' Kim as coach and Yong-jun 'Fly' Song as mid laner, the team was seen to be both experienced and excellent. It was until the 1st Round of the Spring Split, which Longzhu finished with 6 wins and 3 losses and was considered to have high chances of playing in the playoffs. However, the team plummeted at the 2nd Round, and failed to grab a seat in the playoffs. After the accrued payroll issue became public before the Summer Split, no one expected Longzhu to perform well. There were even rumors that PrillA duo would leave the team.
Q.There were high hopes on your move to Longzhu with Pray.
A.We weren't able to make up to the fans' expectations at the Spring Split. The PrillA duo wasn't performing well enough. During the split the team's system was not established, and the players and the management both could not focus on their tasks. The work process was not organized, and everything was off track.
Q.But you managed to win the LCK at the Summer Split, when the name values of other teammates were even lower.
A. After the big fail at the Spring Split, Pray and I promised to show that our bot lane duo is not only the best in Korea, but the best in the world, whomever we play with.We agreed that other teammates would be able to play more comfortably if we show concrete performances on the bottom lane, and the performance of the entire team would develop. We were determined to maintain the team's balance and set a good example as seniors.
Q. Do you mean that the determination of the seniors was what led to the good result?
A. We just did what we had to do. The new teammates were able to bring up the performance even more, and I believe that's how we won the LCK. From the spring split, we always had faith in Bo-sung 'BDD' Kwak's potential, and Dong-ha 'Khan' Kim showed powerful laning phase despite not being able to play much for his previous team back in China. The whole performance was consolidated by Woo-chan 'Cuzz' Moon who added the aggressive playstyle to the team. The new members were all sociable and were the lives and souls of the team. Despite the expectations that the team would fall apart, the players had faith in each other and expected that the team would make it to the playoffs.
Q. What is the most memorable match of 2017?
A.LCK Summer Split Finals with SKTelecom T1. We were not able to win the championship in 2015 and 2016 Worlds because we weren't able to overcome the hurdle that is SKT, but we pulled out a great result at the Summer. The team performed really well, but I was also satisfied with myself. While Khan was awarded the MVP, I thought that I was also the potential candidate.
Q. You must have dreamt of winning the Worlds.
A. Before heading to China for Worlds, I also thought that our team was one of the strongest in the LoL history. While I had often thought that my team could win Worlds, the expectation was much higher in 2017.
Q.Longzhu was actually considered the best candidate, since the team did not lose a single set during the Group Stage.
A. The younger teammates who never had the chance to play at Worlds before performed extremely well. They were never nervous, just like they were at LCK finals. However at the quarterfinals, Samsung Galaxy (now KSV) performed really well, and there were nothing much we could do.
Q. What was the biggest difference between the past Samsung and Samsung then?
A. Yong-in 'CoreJJ' Cho was outstanding. The whole team lost, but CoreJJ was just another level. I always thought that CoreJJ was a great Zyra and Taric player, and he pulled out lots of mad playswith Taric becoming the OP of the meta at Worlds.
Q. How would you compare CoreJJ and yourself?
A. I am an orthodox support, while CoreJJ is a player who switched from ADC.Before the game, I thought that I was better since I was more experienced as a support, but I learnt a lot after losing the match. CoreJJ taught me a good lesson not to be above myself and not let off my guard.The matchups against Jae-wan 'Wolf' Lee and Se-hyeong 'Mata' Cho in 2017 were tough, but CoreJJ at Worlds was like a mountain. The loss was a great stimulant which led me to not settle for what I have achieved until now.
Q.Kingzone DragonX became even stronger at the 2018 Spring Split. What has changed?
A.We have had minimal changes to the team. The team has signed the original players, and Peanut joined the team to make the team even stronger. While both jungle have aggressive playstyle, they are slightly different, and are trying to improve their weak points and complement each other. Also with coach Hyung-mo 'Sin' Yeon who was a jungle during his playing career joining the team, the feedback on jungle plays have become more detailed. Peanut shared how SKT does the post-game feedbacks with other teammates, and through those supplements we have more to talk about. There is harmony between the two jungles.
Q. Isn't it difficult to live with younger players?
A. No, since I am not that old myself(laughs). I do feel that the me now and the me back in the early stages of the career are very different. I was daunted by just the names and gaming aliases of the team members, Reach, Expession, Pray, Cain, Song, Save. But young players now don't seem to be daunted by the name value. They are confident that they can beat anyone, and perform in their own ways. They are far more daring than I was back then.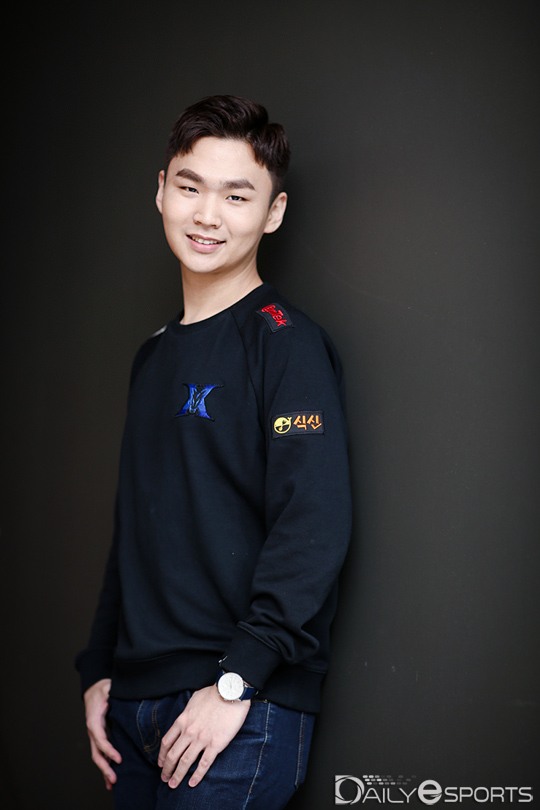 ◆2018 with No Regrets
It is GorillA's 6th year in professional LoL scene, who started his career in 2013. With eSport's relatively short history, 6 years is not a short time. Pointing out 'regret' as the word that comes to his mind the most, thinking about the last 6 years, GorillA confessed that he does not want to leave any regrets for the year 2018.
Q. What are your feelings on the year of the Golden Dog, which is your zodiac animal?
A.Nothing special. Only that the fact that I am quite old is now known even more?(laughs)
Q.What is your new year's revolution?
A.Winning the 2018 Worlds is my supreme goal as a player and the captain of the team. Everyone would know. Personally, I hope to leave no regrets. I have regretted and looked back at the past for the last few years, but I hope to be acknowledged as a good player by everyone this year, no matter the team's performance. I wish to be acknowledges as a good captain which has made important contributions to the outstanding run of Kingzone DragonX.
Q.That was so public, and team-based resolution. What are your most personal resolutions?
A. I wish to become a nice guy, both internally and externally. I am currently on a diet to lose weight. When I first started my gaming career, I weighed 66 kg, but a while ago I stepped up on the scale and I was 76 kg. I was shocked and started my diet, and I am 68 kg now. I looked up and downloaded my past picture on the internet and compared it with the picture when I was fat, to stimulate myself. I have successfully lost 8 kg. I am proud of myself for being able to control myself.
Q.Do you have a role model?
A.My father. He is the C.E.O. of a company named Booxen, and it was his first job. He has been working in the company for over 30 years, and he started as a low man on the totem pole. While I understand that I would retire from the professional scene one day, seeing my father devote himself to the job makes me wish to play as long as I can.
Q. Is that why you are trying hard to keep yourself in good shape?
A. While it is important to keep myself in good shape and stay healthy to extend my professional career, I have set another standard. I decided to not date anyone during my gaming career. While it is true that I have never dated anyone in my life, I thought deeply about having to devote my time on dating a lady, and I decided to not meet anyone until the end of my career.
Q.So you're banning yourself from dating anyone. Isn't that too harsh for you?
A. During the Worlds 2017, CoreJJ was a gigantic mountain. He joined the top tier support, along with Wolf and Mata. Also during the Spring Split this year, Jong-ik 'TuSin' Park also became a great player, and Dong-geun 'IgNar' Lee of bbq Olivers who proved himself in Europe also came back to LCK. Jong-bin 'Max' Jeong of MVP and Han-gi 'Key' Kim also have great ideas and are constantly improving. I can't be praised just because of my past performance, and I have to focus more and prepare more in order to maintain my position and keep developing. To not regret, I have to make a certain sacrifice, and dating someone is what I chose as the sacrificial lamb.
Q. What are your last comments for the fans in 2018.
A.I hope that everyone achieves what they hope for, but without losing their health. Health is the most important value. Please support Kingzone DragonX, and we will try our best to improve. I will continue my career as 'GorillA' and not let the fans down.
Translated by ROXCrew.
*This translation was provided through a partnership with the ROXGAMING.